Waxahachie
108 Broadhead Rd.
Waxahachie , TX (
map
)
Information: (469)517-0394
Movie Line: (469) 517-0390
Theatre features:
Available
3D
Under 16, requires adult after 6pm.
Under 6, no rated R after 6pm
No outside food for drink is permitted
Ticket Prices


Adult:
M-Th $8.50, F-Su $9
Child (2-11)* & Senior (55+):
M-Th $6.50, F-Su $7
Student & Military (w/ ID):
M-Th $6.50, F-Su $7
Early Bird (before Noon):
M-Th $5.50, F-Su $6
Matinee:
M-Th $6.50, F-Su $7


**All shows before 6:00 PM



3D add $3.00
SDX add M-Th $3.00, F-Su $3.50
*Lap children under the age of 2 are free of charge. Any child under the age of 2 using a seat requires a ticket purchase.
}
---
---
Rated NR
This movie has not yet been rated by the MPAA.
Rated G
Nothing that would offend parents for viewing by children.
Rated PG
Parents urged to give "parental guidance." May contain some material parents might not like for their young children.
Rated PG-13
Parents are urged to be cautious. Some material may be inappropriate for pre-teenagers.
Rated R
Contains some adult material. Parents are urged to learn more about the film before taking their young children with them.
Rated NC-17
Clearly adult. Children are not admitted.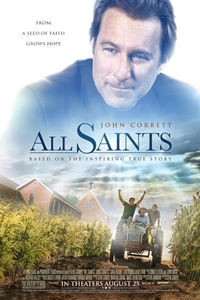 Details
Trailer
All Saints
Cara Buono, John Corbett
Rated PG
-
1 hr. 48 min.